How MD Anderson Uses Content Marketing to Put Patients First
With an army of medical professionals and a network of facilities that span the country, it's no surprise that US News & World Report ranks the MD Anderson Center the best cancer care center in the United States.
All of that's impressive, sure…
But the most impressive part?
The way they handle online marketing.
It's great to see a large organization such as MD Anderson put human connection at the center of their marketing strategy.
How do they do it? What key takeaways can you bring back to your own business?
Keep reading to find out!
How MD Anderson Captivates People Online
MD Anderson earned its reputation through decades of leadership in cancer research and treatment options.
Online, they build on that reputation with a solid foundation of content marketing. Each piece of content acts like a little online platform where people can land as they're researching cancer treatment options.
Here's how their strategy breaks down:
1. Website
Visit MDAnderson.org and you see the homepage setting the tone of the brand right off the bat. You are greeted with a photo collage of MD Anderson's patients, caregivers, and donors. Click on some of these photos and you will be sent to a short personal story video.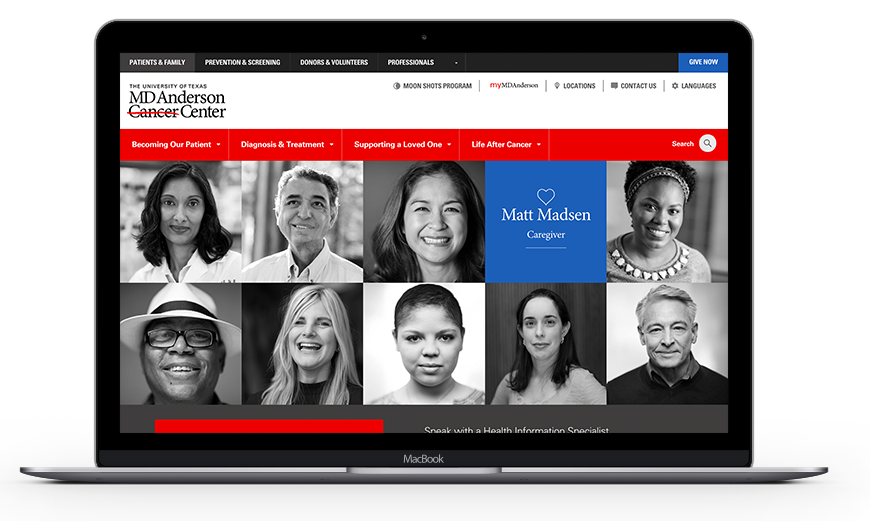 What a great touch! It shows visitors right away that MD Anderson puts people first. It shows that it's much more than a place for research, technology, and cancer. It's a place where patients turn into survivors.
The scope of MD Anderson's website is comprehensive. Instead of focusing on diagnosis and treatment only, it walks visitors all the way from prevention to life after cancer. The broad focus keeps the spotlight on the patients and their families. It recognizes the heavy impact of cancer and promises that MD Anderson and its staff will travel alongside you all the way through your journey.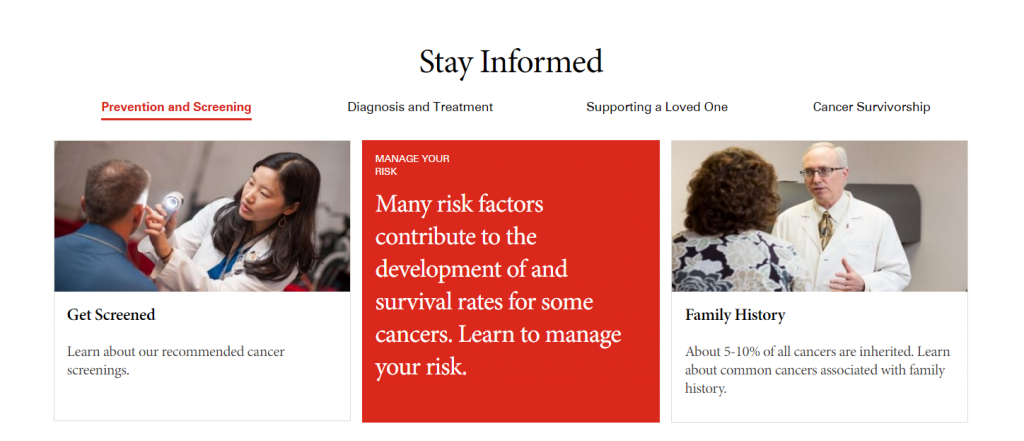 Finally, the website does a nice job including helpful resources for people indirectly affected by cancer. When cancer strikes, family and friends become patients too. They need care and reassurance and MD Anderson is there for them as well. Take a look at this video from their expansive "Supporting a Loved One" section:
2. Blog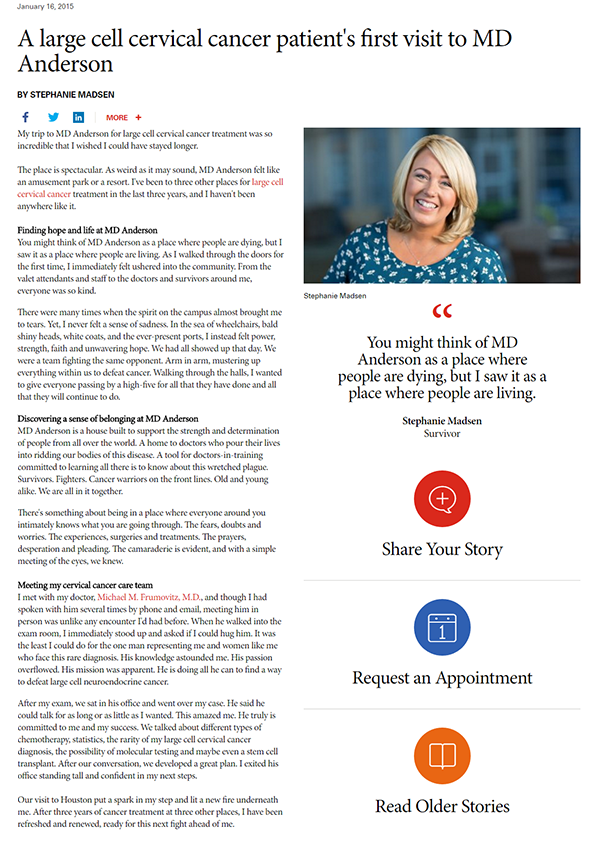 MD Anderson's blog is fantastic for one big reason:
Instead of having marketing write all the posts, they invite patients, caregivers, and donors to tell their own stories in their own words.
Take a look at this powerful article from a woman who sought treatment at the Center for cervical cancer.
Using the words of patients and their families is brilliant. Their stories are much more believable than employees (people with a vested interest in telling visitors what they want to hear). They also tend to be written in a powerful emotional language that readers can relate to and understand.
These stories help the blog serve as a virtual support group. It gives potential or new patients the confidence that they are in good hands.
Finally, the MD Anderson blog invites readers to share their stories and makes it easy to do so, opening up a two-way conversation that builds real relationships and trust.
3. Social Media
MD Anderson doesn't just stop at powerful content creation. They use social media platforms to distribute their message and bond with patients.
They're working a powerful strategy on Twitter, where they've amassed almost 50,000 followers. There, they tweet links to their blog articles with a short teaser that sums up the content in the patient's words. It's a great way to get people curious and visit the website to find out more.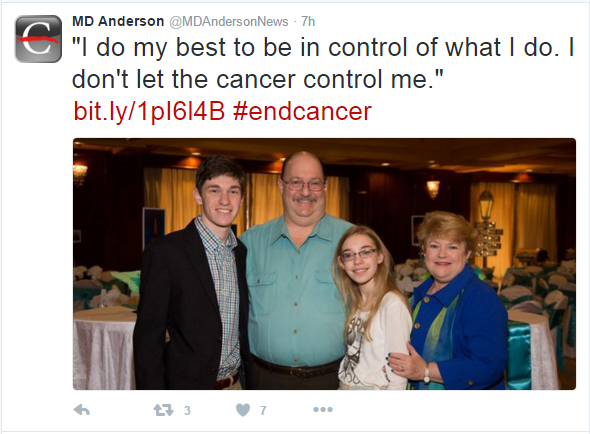 Notice how they use the hashtag #endcancer. It shows up on most of their social media posts, which helps convey a consistent brand presence.
Links to blog content go out several times a day, which leads us to believe that their marketing team is using an automated social media service like Buffer or Hootsuite to schedule posts and distribute them every few hours. These are great tools for anyone serious about their social media strategy, so be sure to check them out.
But…
Here's where the Center really shines: Beyond automated tweets linking to their content, they also reply to mentions and offer support by answering questions!
Simple gestures like this show users the human side behind such a massive organization. Yes, someone is really there, and not just reading what you say but responding!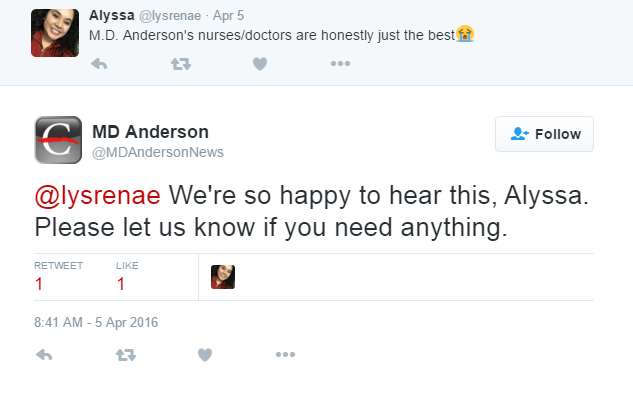 Putting MD Anderson's Strategies to Work in Your Own Business
MD Anderson's marketing works because it seeks to connect with people and addresses the emotional reality of fighting cancer – what patients and loved ones are going through. We could all us a little more human touch in our approach to customers.
Healthcare is one of those rare life and death businesses. Our products, our brands have a profound impact on a physical and emotional level. Yet, too often we see brands lose sight of the light they shine by burying themselves in statistics and data.
We can do better than that just by following MD Anderson's example.
Use your marketing content to connect with your customers and earn their attention. Every tweet, blog post, and website update is another opportunity to leave room for the human side of healthcare and build lasting relationships.
Relate to your customers as humans. Resonate with them on an emotional level, and they'll become the best marketing team you could ask for. MD Anderson does it. And so can you!