Northwestern Medicine: An Unforgettable Online Marketing Experience
Digital tools have the potential to transform your healthcare marketing. But making them a key part of your strategy can seem easier said than done. Everything seems so new, and constantly changing.
Paying attention to the organizations who are already use digital tools well can save you months (or even years) of frustration and mistakes. The sooner you navigate the digital "learning curve," the sooner you can unleash your marketing's fullest potential!
Of everyone marketing healthcare online, Northwestern Medicine is one of the very best. Let's break down what they're doing that makes their digital presence so special.
How Northwestern Connects with People Online
Northwestern Medicine is the "shared strategic vision" of Northwestern Memorial Healthcare and Northwestern University Feinberg School of Medicine. The community is massive, totaling over 25,000 hospital staff, faculty, medical students, and many more.
With such a diverse community, Northwestern's challenge is to appeal to completely different types of audiences online, whether they're academics, prospective patients, or family and friends.
Here's how they did it:
An Extremely User-Friendly Website
Northwestern might not have the fanciest hospital website around, but their digital presence focuses on something much more important: usability.
It's very easy for visitors to land on the site and go exactly where they need, whether it's time to schedule a follow-up appointment, find a new doctor, or pay a bill.
Northwestern's website is simple but effective. It respects that their visitors are busy, so it doesn't barrage them with massive chunks of text. Instead, it uses boxes, icons, and pictures to get the meaning across quickly: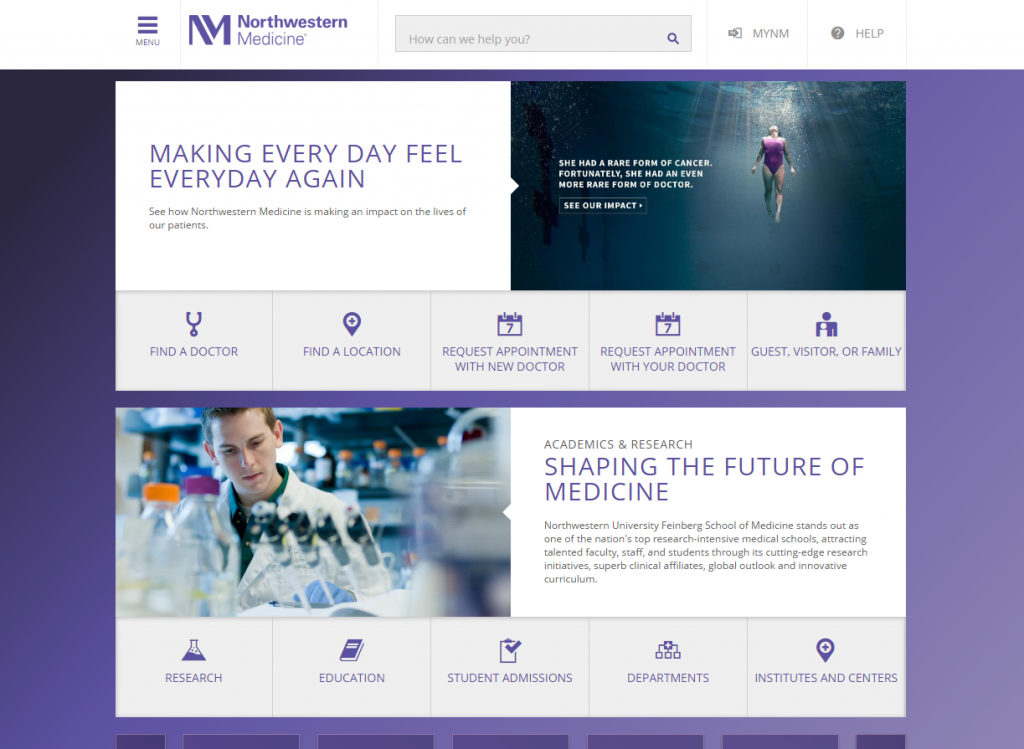 The navigation structure works well for Northwestern's diverse audience. The homepage acts as a portal so people can quickly find what they need…instead of reading through menus or slogging through tons of text.
The feedback on the right side of the page is another nice touch. This element is easy to set up, and it shows visitors that Northwestern values their opinion. Northwestern can use this feedback to make the website even more compelling in the future.
Northwestern also relies heavily on content like blog articles and news reports. But they've divided the content into separate sections to appeal to different audience segments. Academics can read about scientific breakthroughs in the News Center, while patients and their families can get everyday support and health advice at Breakthroughs in Care.
Offering Value, Building Communities
Northwestern also delivers value to everyone who visits their website, whether they end up becoming a patient or not.
Anyone who visits Northwestern's website can sign up to receive free health tips via email.

These emails show visitors that Northwestern cares much more than just about booking as many appointments as possible. They want their visitors to be healthy and happy, regardless if they ever become patients. The emails also get certain visitors to identify themselves as prospects–people with whom Northwestern can follow up with more.
Northwestern also includes an awesome video library where patients, prospective patients, family and friends can browse different health topics. Northwestern doctors break down potentially complicated topics in ways average people can absorb. This conveys valuable information, builds credibility by showing these professionals are some of the best in their fields, and opens up another way to build relationships: through video instead of text.
Here's a video of one Northwestern doctor discussing her dermatology practice:
Northwestern's patient and family-focused blog, Breakthroughs in Care, features patient stories, as well as plenty of practical health, nutrition, and wellness advice. Readers can browse compelling stories and images of people like themselves overcoming health obstacles and being empowered to live life to the fullest.
This blog reassures prospective patients that seeking treatment doesn't have to be an isolating experience–it can bring great comfort just knowing that others were in similar shoes, overcame their doubts, and eventually got the treatment they needed to get healthy.
Another related page, #ImpactEveryday, incorporates a hashtag to encourage shares on social media. It celebrates patients whose lives have transformed after treatment at Northwestern. This page features beautiful testimonials from former patients. These aren't just a cursory paragraph or two; they're long, detailed accounts of patients' stories in their own words, with plenty of photos and other personal touches thrown in.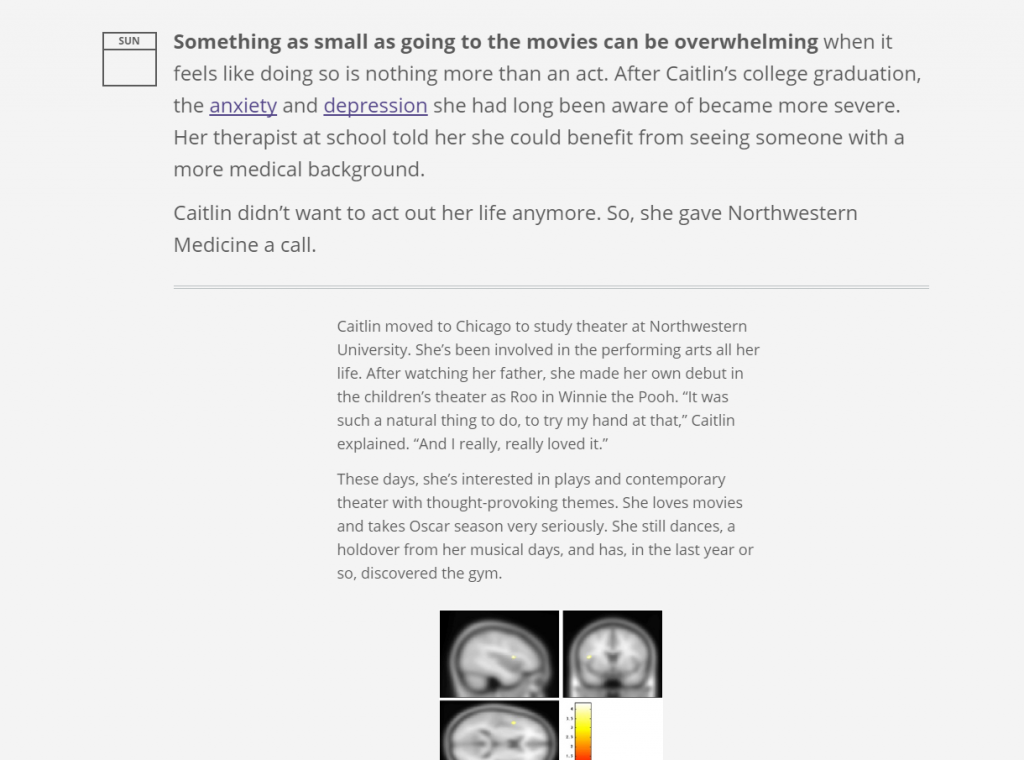 Special Touches
In case an extremely usable website full of valuable information wasn't enough, Northwestern's digital strategy has a few special touches that take its marketing to the next level.
One thing that stands out is the ability to send beautiful e-greeting cards to Northwestern patients. This is a great touch because it shows Northwestern is well-aware of the human impact of healthcare treatment. By allowing distant relatives and friends this simple gesture, they deliver invaluable emotional support during and after patient treatment.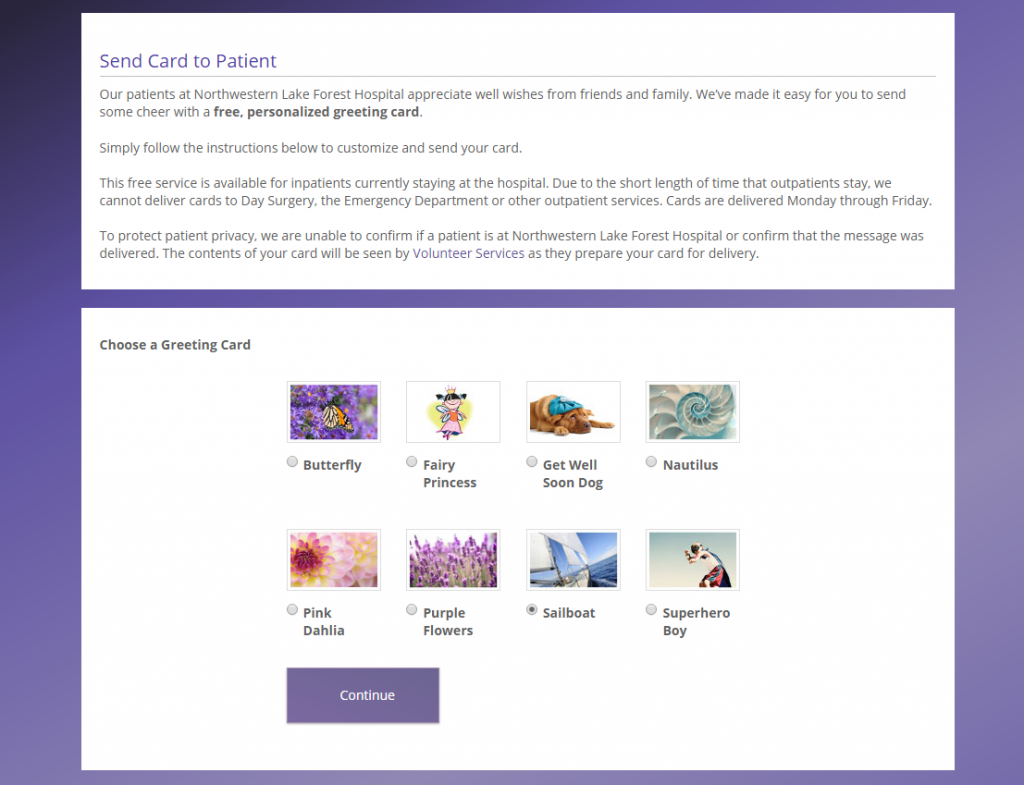 There are also resources like the Health Encyclopedia, a treasure trove of health-related articles covering specific conditions, treatment options, drugs, nutrition, and more. This information is useful for everyone–regardless if they become a patient. Northwestern takes a similar approach as the Mayo Clinic in their commitment to producing authoritative articles reviewed by their medical staff.
Northwestern even developed a special mobile app for its patients. This app, called ICE, provides first responders with the contact information of the person you designate as your ICE ("in case of emergency" contact). Their contact information appears on the app banner–even when the patient's phone is locked. You can also store key information like blood type, allergies, and current medications. It seems like a small gesture, but it goes a long way in adding more value for former patients.
Your Turn
Despite the challenge of running a massive organization, Northwestern is able to deliver memorable experiences to everyone who visits their website.
You can do the same. Apply these key principles, and you'll build digital communities and resonate with your audience on a whole new level.