The Scripps Health Marketing Strategy: What Makes it Work
Scripps Health, a private, nonprofit health system based in San Diego, has been providing world-class care to the local community for decades. Ever since its humble beginnings back in 1924, Scripps has focused on a patient-first experience.
This health system has grown to include four San Diego hospitals, multiple urgent care clinics, and emergency rooms. Along the way, they've received numerous awards and recognition for their clinical quality, innovation, and workplace environment.
How do they do it?
A crucial part of their success today lies in their digital marketing strategies. Let's break them down and see what we can learn!
MyScripps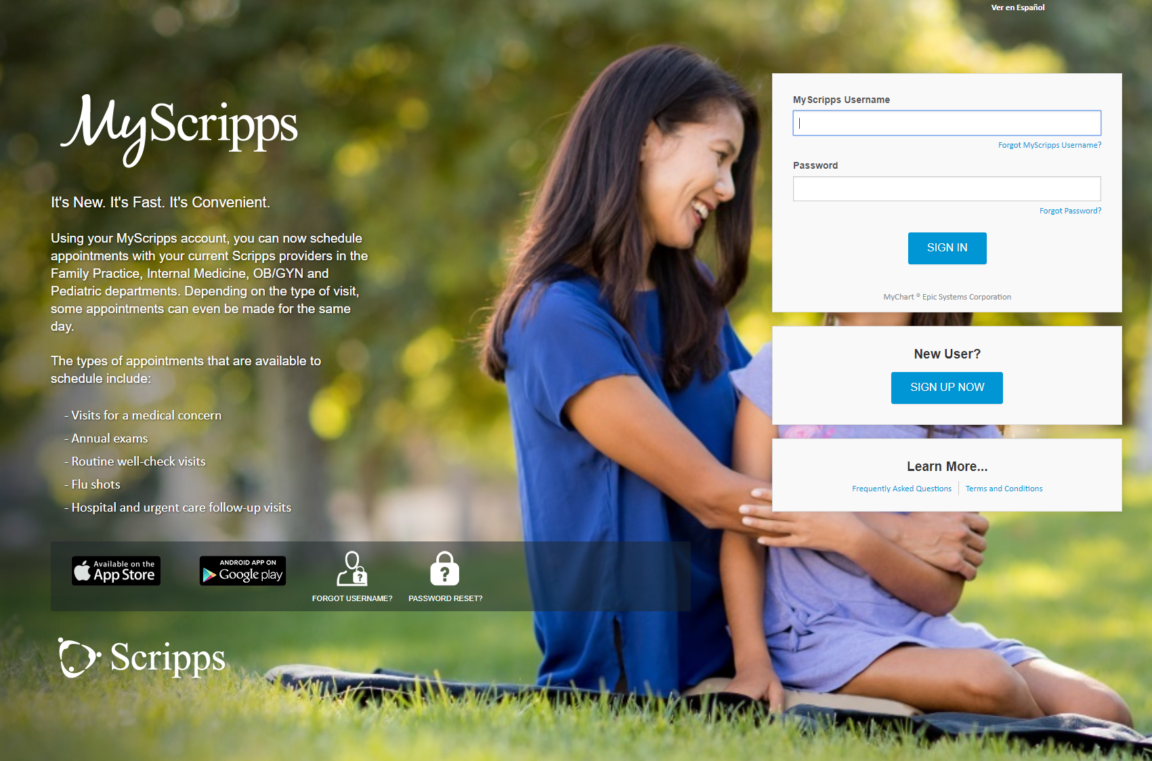 MyScripps is the hub of the health system's extensive online presence. This personalized patient portal makes some of the tedious aspects of healthcare more manageable. For example, patients can schedule appointments with Scripps providers – everything from flu shots and annual exams to visits for a specific medical concern or urgent care follow-up.
Patients can also view test results, message doctors or nurses in non-emergency situations, pay outstanding bills, request prescription renewals, and even access family members' medical information.
The result? An improved patient experience.
MyScripps gives patients the convenience they're used to from websites like Google and Amazon. There's no need to try to figure out which number to call or wait for someone to talk to. And with Apple and Android mobile apps, patients can even access the portal on the go.
Showcasing Patient Stories
A health system as large as Scripps has a marketing budget that smaller health systems can only dream of. That said, they still recognize that some of their most powerful messaging comes not from their marketing pros, but from the patients they've served.
User-generated content plays a prominent role in the content available on the Scripps website. Take a look at this video below, for example:
This clip, pulled from a local news segment on KUSI, features a husband who donated a kidney to his wife five years ago. Instead of focusing on the surgeons' expertise, Scripps wisely turns the spotlight on the patients themselves.
This isn't just another statistic or a "quality health outcome." This is an emotional story of a couple whose lives have been transformed. Focusing on the emotional appeal – the "heart" component of our head-and-heart approach at Bloom – helps visitors connect with Scripps on a deeper level.
A common (and understandable) concern with large health systems like Scripps is patients' fear that they'll be treated like just another number or lost in the shuffle. Blog posts like this one about the kidney transplant couple help alleviate that concern while humanizing the brand.
"Meet the Doctor" Series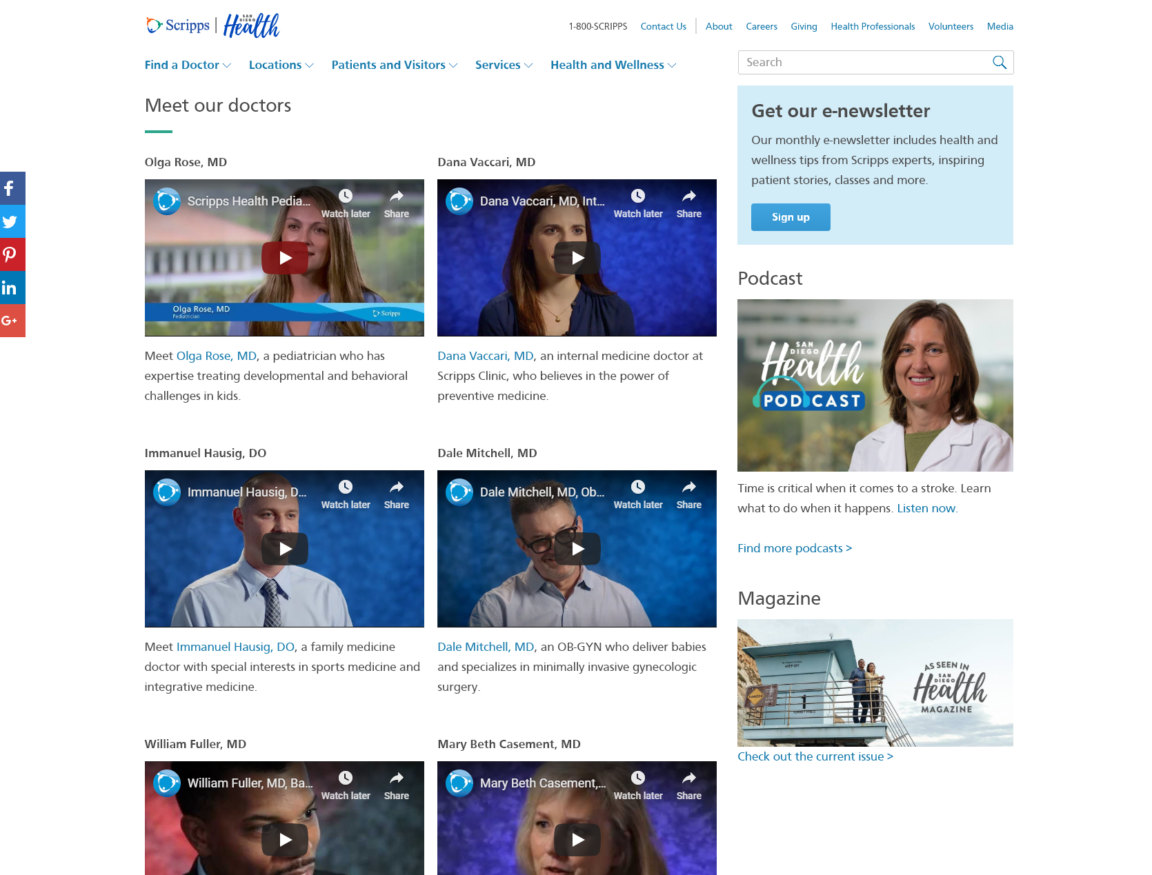 Scripps clearly understands that patients are more empowered than ever in their quest for better health. Nearly 80 percent of them begin their search online, where they educate themselves with abundant resources and compare options for treatment. Patients aren't just looking for healthcare providers qualified to help them; they're looking for someone who will listen to their concerns and be receptive to building a relationship.
Healthcare is an intensely personal service, and patients want to build relationships with people they feel they can trust. The ongoing Scripps "Meet the Doctor" series helps them do just that. These short video interviews help patients get to know their potential doctors beyond just a CV or online bio. They see that these doctors are people with interests just like them – who are also concerned with providing the best possible care above all else.
This is a powerful way for Scripps to humanize their brand. Another benefit of the "Meet the Doctor" series is that it's an easy way to continue producing content to attract visitors to the Scripps website. This puts less pressure on marketers to continually come up with content ideas; they can just use their doctors' words instead. Scripps can also post these videos in multiple locations (the blog, YouTube, etc.) to expose them to wider audiences.
A Library of Valuable Content
One of the most powerful ways to build a healthcare audience today is through content marketing. Providing valuable information attracts website visitors and gives them reasons to connect with your brand and to come back when they have more questions.
This strategy aligns well with how patients approach their health these days. Instead of fighting the trend of patient empowerment, Scripps embraces it wholeheartedly. They provide free information that builds relationships early on, so when it's finally time for a patient to decide whom to entrust with their health, Scripps Health is the first name that comes to mind.
Scripps has an entire section of its website (called "Health and Wellness") devoted to this information. Content ranges from discussing how women should approach healthy aging and warnings about electric scooters, to a beginners' guide to plant-based diets and healthy holiday drinks.
Content marketing helps Scripps demonstrate their expertise in a wide variety of health topics. Most importantly, it shows visitors that Scripps is concerned not with just getting their business, but improving their quality of life before, during, and after treatment. Scripps also branches out into video, magazine, and podcast format; some of their most remarkable content involves their team releasing Q&As about various health issues, like finding a primary care doctor:
Scripps also hosts plenty of classes and events, many of which are free. These motivate visitors to advance online relationships to real-life ones throughout San Diego County. Covering everything from hospital orientation for expectant parents, mindfulness classes, to diabetes care and prevention.
An Active Social Media Presence
The Scripps website might be their main hub online, but the health system also maintains an active presence on social media. With over 27,000 followers and growing, their Twitter presence is especially impressive.
Scripps posts on Twitter several times a day. The content represents a healthy mix of current events (such as the Camp Fire in California and a CDC warning about romaine lettuce), wellness and prevention tips, and humanizing stories of their patients and staff. They also curate content from other trusted health sources.
What often begins as a blog post or Q&A video is adapted into a shorter vignette to entice social media users. Once Scripps catches the attention of a current or potential patient, they include a link back to the full content.
Here's a peek at their teaser video about a mitral valve:
These bite-sized chunks give interested visitors an opportunity to follow the link to the full content. Scripps uses unique URLs to track the source of these visitors too, so they can see which pieces of content lead to the most engagement.
This active posting schedule and mix of content keep even frazzled Twitter users engaged. The emphasis is on being helpful and building relationships. And Scripps avoids the burden of having to create entirely new content because they merely adapt or reuse their long-form content.
Delivering an Unforgettable Patient Experience
Scripps Health showcases the full potential of digital marketing in the healthcare space. By combining the latest tools and media, they provide an unforgettable experience.
The sheer number of marketing strategies at play might seem overwhelming. But applying even just one or two could make a significant impact on your bottom line. Many of these strategies can be adapted for smaller healthcare brands to accommodate tight budgets.
What is your favorite Scripps Health marketing strategy? Why?